Though best known for his beloved fairy tales, Hans Christian Andersen was Danish playwright, poet, novelist, and writer of travelogues. Some of his best known works are The Snow Queen, The Little Mermaid, The Princess and the Pea, The Ugly Duckling, and many more.
On April 2, 1804, Hans Christian Andersen was born in Odense, a town in Denmark. He was the only child born to Hans Andersen Sr. and Anne Marie Andersdatter. His father thought himself to be related to nobility, as his mother had always told him that their family had once upon a time belonged to a higher social class.
A young Andersen was introduced to literature by his father, who would read him works like Arabian Nights. In 1816 however, Hans Andersen Sr. died. Andersen's mother was uneducated, working as a washerwoman shortly after. In 1818, she remarried. Andersen received a basic education at a local school for poor children. His mother had never been pleased with his storytelling, so she had him apprentice with a weaver. For a very brief period of time, he worked at a tobacco factory but then apprenticed for a tailor. Despite his mother's attempts, Andersen never lost his love for storytelling.
At fourteen, Andersen moved to Copenhagen in hopes of getting a job as an actor. The first three years in Copenhagen though, were full of poverty. An excellent soprano, he joined a boy's choir, where he made an extremely small wage. As his voice began to change, his career in the choir came to an end. When Andersen attempted ballet, he realized his body was not fit for it and a career in ballet would not be plausible. Desperate to do whatever he could, Andersen tried, and failed, at manual labor.
It wasn't until three years after he had moved that he met Jonas Collin, the director of the Royal Danish Theatre (Danish: De Kongelige Teater). Collin had already seen and read some works by Andersen (he had published "The Ghost at Palnatoke Grave" in 1822) and thought the seventeen year old was promising. When he approached King Frederik VI, he was able to convince him to pay for Andersen to be educated. There is speculation that Andersen may have been the illegitimate son of the king due to this. Andersen began attending a grammar school located in Slagelse. He also attended school in Helsingor. Both towns were close to Copenhagen and were located on the island of Sjælland, or Zealand. Andersen was never a great student. The other students alienated him and his teachers mocked him because he wanted to become an author. Historians believe that he most likely suffered from dyslexia, contribution to why he had such difficulties in school.
Jonas Collins decided to remove Andersen from the school in Helsingor due to the abuse he was getting. He still wanted Andersen to finish his education though, so he arranged for him to finish his studies with a private tutor in Copenhagen. Andersen was twenty-three when he completed the exams required to enter the prestigious University of Copenhagen (Københavns Universitet) in 1828.
Andersen published a short story in 1829 called "A Journey on Foot from Holmen's Canal to the East Point of Amager", finally giving him some success after years of hard work. It was about a character who met characters like Saint Peter and even a talking cat. Not long after, he published a theatre piece called Love on St. Nicholas Church Tower and a collection of poems. His first works were not very notable. It would be many more years until his works became worthy of note.
The King gave him a grant for travelling in 1833. Andersen spent sixteen months travelung throughout Europe in Germany, Switzerland, Italy, and France. On this trip, Andersen discovered a love for travel and was especially fond of Italy. He would go on twenty-more extended journeys in his life and about fifteen years were spent out of Denmark. "To travel is to live," is one of his most famous quotes. He also wrote many travel stories that gained him some popularity. Andersen also kept a home in Nyhavn, which was in Copenhagen, as he travelled. In 1835, Hans Christian Andersen published his first novel "The Improvisatore" (Improvisatoren). The autobiography was immediately successful.
Originally, Andersen had written fairy tales that were revisions of those he was told as a child. His original fairy tales were not met with much recognition at first though. In 1835-37, he published a collection of nine fairy tales called Fairy Tales Told for Children, First Collection (Eventyr, fortalte for Børn. Første Samling). This collection included "The Emperor's New Clothes", "The Little Mermaid", "The Princess and the Pea", "Thumbelina", and "The Tinderbox". His stories were not recognized at first, selling quite poorly. Meanwhile, he was becoming more successful with two novels he had written, O.T. (1836) and Only a Fiddler (1837). In 1844, another one of his most well known fairy tales, The Snow Queen (Snedronningen), was published in First Volume, Second Collection. Andersen continued writing and publishing his fairytales until 1872.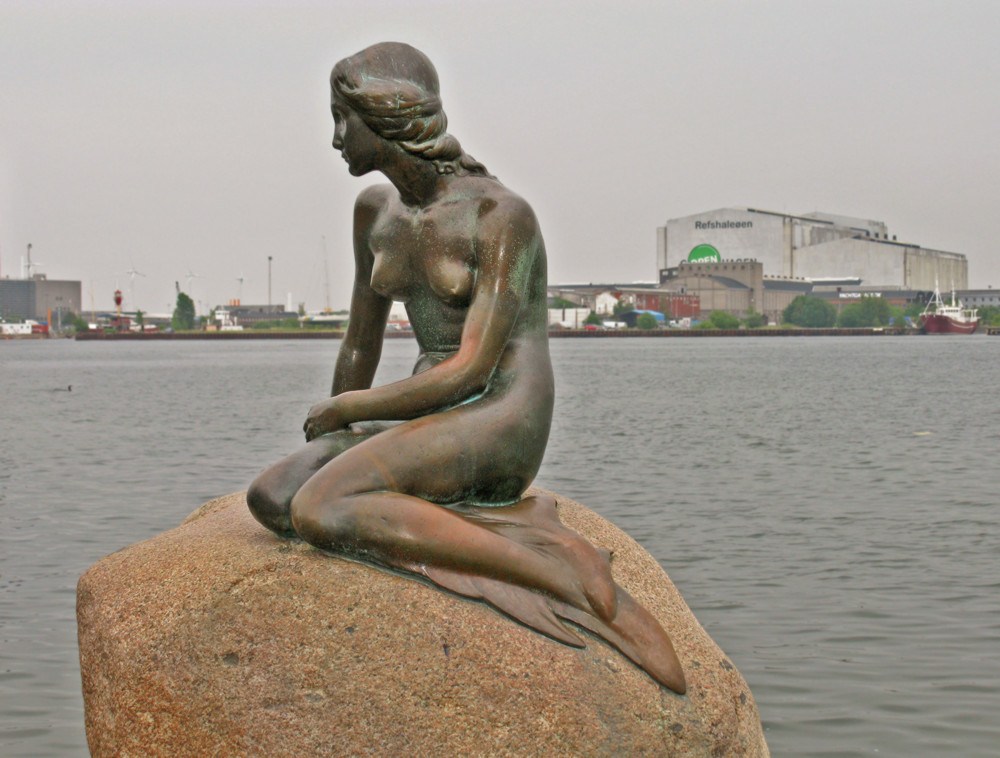 Inspired by Scandinavism when visiting Sweden in 1837, Andersen wrote a poem to convey how the Swedes, Danes, and Norwegians were related. While visiting the island of Funen (where Odense, his hometown, is located), he began writing a poem called Jeg er en Skandinav ("I am a Scandinavian").
By the early 1840s, Andersen was also earning some foreign success. When he visited Germany in 1846 and England the following year, he was hailed a famous dignitary. While in England, Andersen was invited to attend many social gatherings for those belonging to the upper class. At one gathering, he even met famed English author Charles Dickens. Throughout the years, he would become even more successful across the word. When he would travel, they treated him like a pillar of society. At home in Denmark, he had many opponents who believed that Andersen was not serving of praise. His stories would go on to be translated into more than 125 different languages. And by the time of his death, he was honoured by England as the greatest living author.
Andersen wrote many travelogues, detailing his travels throughout Europe. A few of his travelogues also contain some of his fairy tales, In Sweden being one of them.
During spring of 1872, Andersen was severely hurt when he fell out of his bed. He would never really recover from these injuries. Not long after, he also began showing signs of having liver cancer. Then, on August 4, 1875, Hans Christian Andersen died at seventy years old in Østerbro, Copenhagen, Denmark. At the time, he was at the home of his close friends, baker Moritz Melchior and his wife. Andersen's body was later interred in Nørrebro, Copenhagen in the Assistens Kirkegård (Assistens Cemetery).