Known for her beautiful memoir I Know Why the Cage Bird Sings, Maya Angelou is a critically acclaimed poet. Angelou has been nominated for the Pulitzer Prize and has also won two NAACP Image Awards for her work. Today, let's take a look at the life of this inspiring woman.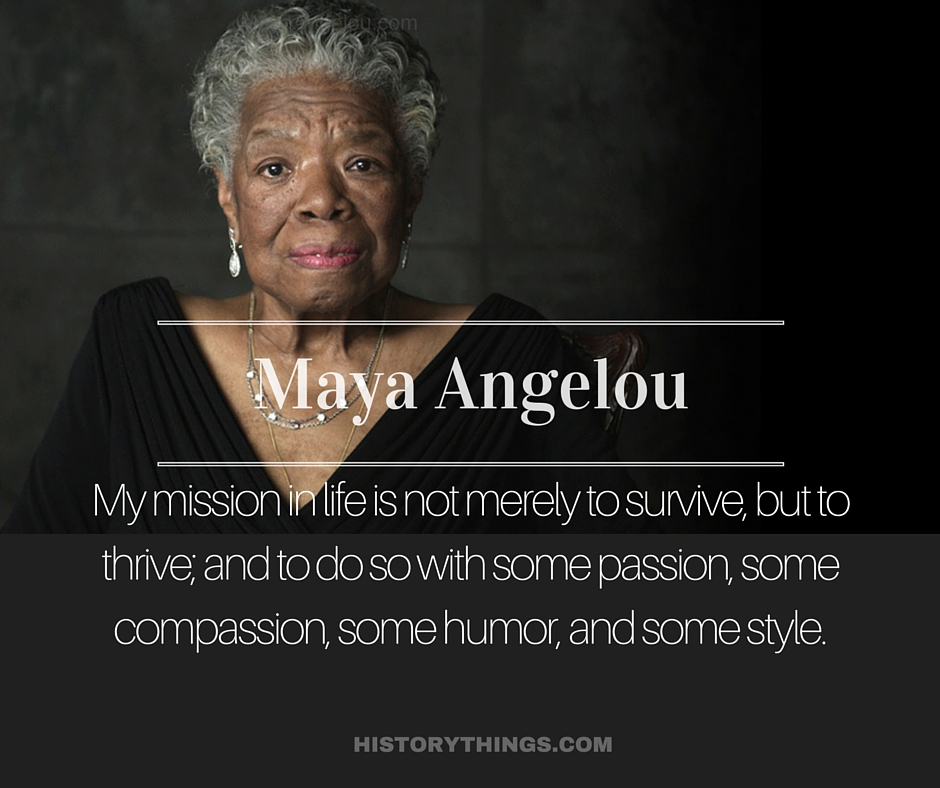 Angelou was born on April 4th, 1928 in St. Louis, Missouri as Marguerite Annie Johnson. Angelou had a rough childhood. Following her parents divorce, she was sent away to live with her grandmother, Anne Henderson in Stamps, Arkansas. Being an African American living in Arkansas provided Maya with a difficult life. Her experience with racial discrimination started at a very young age. When Angelou was only 7 years old she was raped by her mother's boyfriend. After her uncles found out about her suffering, they decided to avenge Angelou by killing her mother's boyfriend. This experience severely traumatized Angelou, and when returned to Arkansas she spent several years as a virtual mute.
When Angelou was older, she moved to San Francisco, California during World War II. At this time, she began to study dance and acting which landed her a scholarship to the California Labor School. Not only did Angelou work hard on her studies, she spent her free time working as a cable car conductor. She only worked this position for a brief period of time, however, she was the first black female to land this particular job.
In 1944 at the age of 16, Angelou gave birth to her son. Angelou was forced to work and support her child from here on out. It wasn't until 1952 that she wed her husband Anastasio Angelopulos, which is where her professional name comes from. As the years went on, Angelou's performance career began to take off. The first gig she landed was in a touring production of Porgy and Bess. She then appeared in an off-Broadway production of Calypso Heat Wave in 1957.  Angelou also released her first album in 1957 titled Miss Calypso. Her career continued to boom when she starred in a musical revue titled Cabaret for Freedom. At the time, Angelou was a member of the Harlem Writers Guild as well as a civil rights activist, which allowed here to organize this revue as a fundraiser for the Southern Christian Leadership Conference.
A few years later, Maya made an appearance in the off-Broadway production of Jean Genet's The Blacks. She acted alongside James Earl Jones, Cicely Tyson, and Lou Gossett Jr. She moved on to pursue other projects and spent a majority of her time in the 60's abroad. Once she returned to the United States, she was persuaded by her close friend James Baldwin to write down her life experiences. This resulted in her extremely popular memoir I Know Why the Caged Bird Sings. Angelou's debut novel was considered revolutionary. As an African American woman, Maya made history with her nonfiction best seller. At this time, she became a household name.
Her success allowed her to continue pursuing her artistic and social abilities. In 1972, she wrote the drama Georgia, Georgia. This was also a revolutionary achievement, placing her as one of the first African American women to have her screenplay produced. She later earned herself a Tony Award for her performance in Look Away as well as an Emmy nomination on the TV series Roots. 
Angelou's success continue on and on. She wrote several autobiographies and even made a directorial debut in 1998. During her lifetime Angelou has won the Chicago Internal Film Festivals Audience Choice Award. She has also won two NAACP Image Awards for her literary works.
As she got older, Angelou suffered from a variety of health issues. On May 28th, 2014 Maya Angelou passed away in her home in North Carolina. Maya's achievements have inspired entire generations and will continue to do so for years to come.