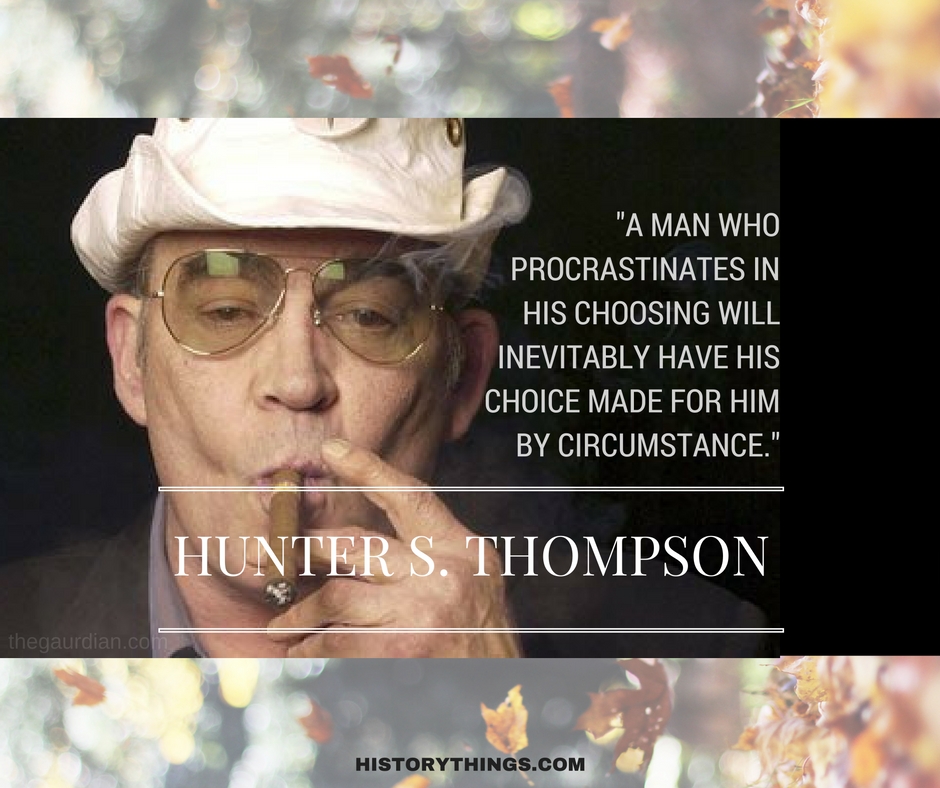 Born Hunter Stockton Thompson on July 18th, 1937 in Louisville, Kentucky. Hunter's father served in World War I and then worked as an insurance agent until his death. Hunter was only in high school when his father passed away. His mother was left to support Hunter and his two younger brothers. During his teenage years, Hunter began to fall in love with writing. His skills were so impressive that he was accepted into the Athenaeum Literary Association.
At a young age, Hunter was very mischievous and was constantly testing the limits. He was quite the prankster when he was younger. Starting out by pulling harmless pranks, Hunter eventually moved up to shoplifting and vandalism. During this time, he also began to test the limits with drug use. Before he'd graduated he'd been arrested multiple times. After going to court on robbery charges, Hunter was given the choice between going to jail or the military. Hunter chose the military and joined the United States Air Force in 1956.
Once he'd completed his basic training, Hunter was sent to the Eglin Air Force Base located in Florida. This is where he began working for the Command Courier as a sports editor. In 1958, Hunter's military career came to an end when he was given an early discharge.
Over the next few years, Hunter worked for a variety of newspapers around the world. He even worked briefly as a copy boy for Time magazine. The entire time that he worked for various newspapers, Hunter continued to pursue his passion by working on his own personal pieces. In 1965, Hunter landed a very large project due to his wild ways. He was assigned the task to report on the Hells Angels, a notorious motorcycle club. The article was published in May of the same year and was considered a huge success. Hunter had gained enough information to create the book Hell's Angels: The Strange and Terrible Saga of the Outlaw Motorcycle Gangs which was published in 1967. This novel was also a huge success and gained Hunter recognition as a writer.
With the funds from his first novel, Hunter was able to settle down in Colorado. However, Hunter was far from settling down. Hunter continued to travel and work on assignments for a variety of different magazines. He even covered the Vietnam War and the presidential campaigns in 1968.
In 1971, during his time covering the Mint 400 motorcycle race in Nevada, Hunter ended up writing a piece that wasn't exactly what Sports Illustrated had wanted. Instead of writing about the Mint 400, Hunter came up with what we now know as Fear and Loathing in Las Vegas: A Savage Journey to the Hear of the American Dream. This story was published as a serialization in Rolling Stone magazine before it was published in 1972. The novel that defined Hunter S. Thompson was later adapted into the 1998 film starting Johnny Depp and Benicio Del Toro.
Hunter continued to write over the years. Unfortunately, by 2005 Hunter had driven himself into a life heavy drug use. Sick of the world around him, Hunter S. Thompson killed himself on February 20th, 2005.
His work has inspired so many. His sarcastic and witty commentary on our world brought joy to audiences all over. Hunter S. Thompson pushed the boundaries in his personal and professional life, and for that we will always remember him.