The OJ Simpson Trial Timeline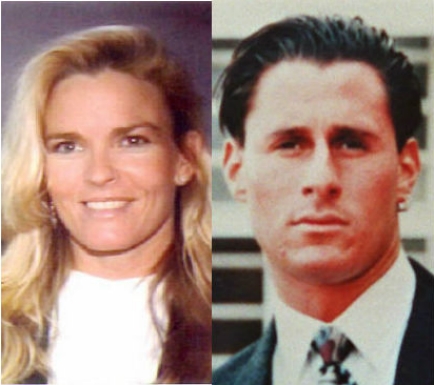 Nicole Simpson and Ron Goldman.Photo:Theroot
June 1994 – The Murders of Ron Goldman and Nicole Simpson
JUNE 12: 9:35 p.m.:  Houseguest extraordinaire, Brian "Kato" Kaelin returns from a quick trip to McDonald's with OJ.
11 p.m: O.J. meets he's scheduled limo in front of his house and is taken to airport for a work trip to Chicago.
JUNE 13: 12:10 a.m.: Ex-wife of OJ and mother to his children, Nicole Brown Simpson and her friend Ronald Goldman, are found murdered in a gruesome crime scene just outside of her Brentwood condo as her children were inside asleep. Her throat is slashed so deeply, she is almost decapitated. The crime-scene images are haunting.
12 Noon – Having been notified of Nicole's death, O.J. returns to Los Angeles on the first flight out the next day. He is met by police and interrogated for 3 hours at the police station.
JUNE 15:O.J. realizes he is in dire need of representation and his friend Robert Kardashian puts in a call to LA attorney to the stars, Robert Shapiro. Shapiro takes over as lead counsel for O.J.'s defense.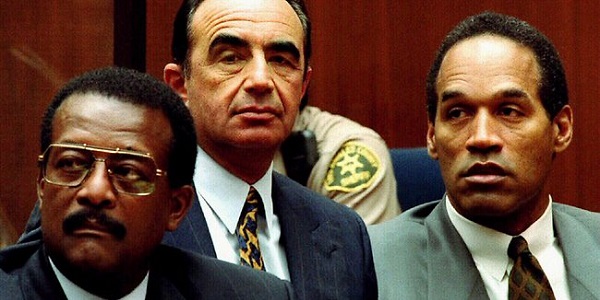 Photo:Cineblend
JUNE 16: The funeral of Nicole hits LA hard.  People are already beginning to talk and suspect OJ might be the killer. In an unpopular move, O.J. accompanies his children, Sydney and Justin to his murdered ex-wife's funeral.
JUNE 17: The day after the funeral, O.J. Simpson is charged by the city of Los Angeles with two counts of murder with special circumstances.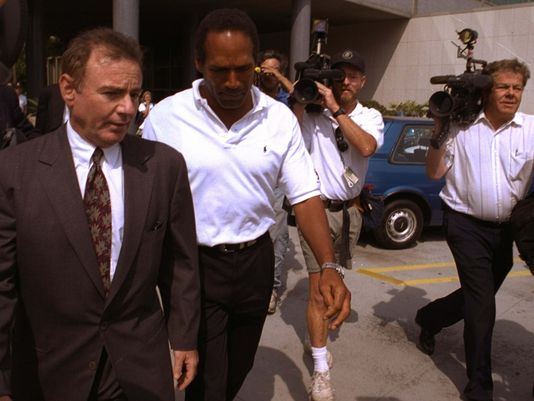 Photo:courierpostonline
In a desperate attempt to flee, O.J. leads police on 60-mile, low-speed pursuit throughout Orange County. People around the world are glued to their TV's watching OJ run. His friend Al Cowling is at the wheel and talking to police as OJ contemplates suicide. Right then and there, most people believe that OJ is guilty.

9 p.m.: O.J. arrested at his home as the world watches. He is soon in jail without bail. The trial of the century is about to the shape.