Part 1 of a 4 part series: Early steps in the US, and the first smallpox vaccine in England.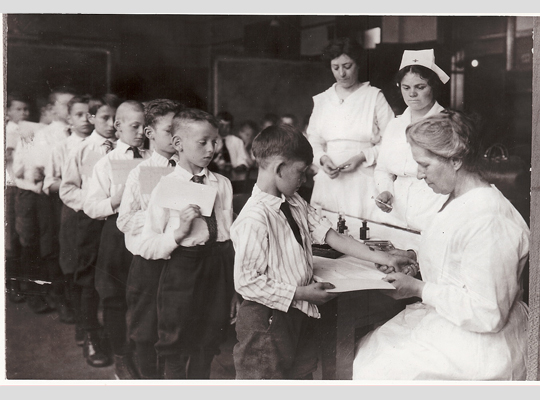 source: historyofvaccines.org
The history of vaccines, cluttered with mistakes and happenstance, shines with surprising discoveries. Vaccines today are a controversial topic among a small yet influential opposition. There are passionate people from all sides arguing that vaccines are either a detriment or benefit to society. One thing we know for sure is that vaccines have prevented millions of deaths each year.
Among the earliest prevention of infection and disease comes at the end of the end of the eighteenth century. This was a time when yellow fever had become an epidemic in Philadelphia. The Lazaretto building was erected to quarantine people who might have become infected.
If you were on your way to Philadelphia, you would have to pass inspection.  Anyone who might have been ill would be quarantined at the Lazaretto Hospital. This also helped protect against other diseases and infections such as smallpox. You can actually still find the Lazaretto building today, it's the oldest quarantine structure in the United States.
The real story of vaccination actually began a few years before this, where Edward Jenner, a doctor in England gave the first vaccination for smallpox. Smallpox is a serious and sometimes fatal disease, causing a painful rash and blisters. Historians believe it emerged in humans some 12,000 years ago.
By taking pus from a cowpox lesion, Jenner injected this into a boy, who a few days later, he injected with smallpox. He found that our reaction to cowpox would actually prevent infection of smallpox. His ground-breaking work led to the beginning of modern vaccines.  Thanks in large part to Jenner, smallpox is mostly eradicated, with the last natural occurrence found in the 1970's.
In part 2 of this 4-part series, learn about the start of the anti-vaccination movement, the first mandatory vaccines, and the success of rabies and diphtheria vaccines.